Convoke
NITI Aayog in partnership with Bharti Foundation is organizing the National Research Symposium for Teachers and Heads of Schools – CONVOKE 2021-22. The objective of CONVOKE is to encourage use of research as a tool to enhance teachers' capabilities and encourage evidence based pedagogy and decision making practices to improve student learning outcomes in line with the National Education Policy 2020.
The symposium will provide a platform and an opportunity for discussion, collaboration and intellectual exchange for teachers, head of schools and education administrators with a specific focus on improving learning outcomes.

Register for Convoke 2021

Convoke 2021 will be based on a webinar format this year and the theme for the edition is 'School Leadership for School Excellence' 
 
Sub themes: 
a. Enabling the girl child through education
b. Education in the times of the 'new normal'
c. School Excellence needs empowered principals
d. School Leadership and equity
e. School Excellence – use of research and technology 


Important Dates
Activity
Timeline
Application Launch Event & Details Sharing
9th Dec, 2021
Call for papers
Till 28th February, 2022
Convoke
March ( TBD)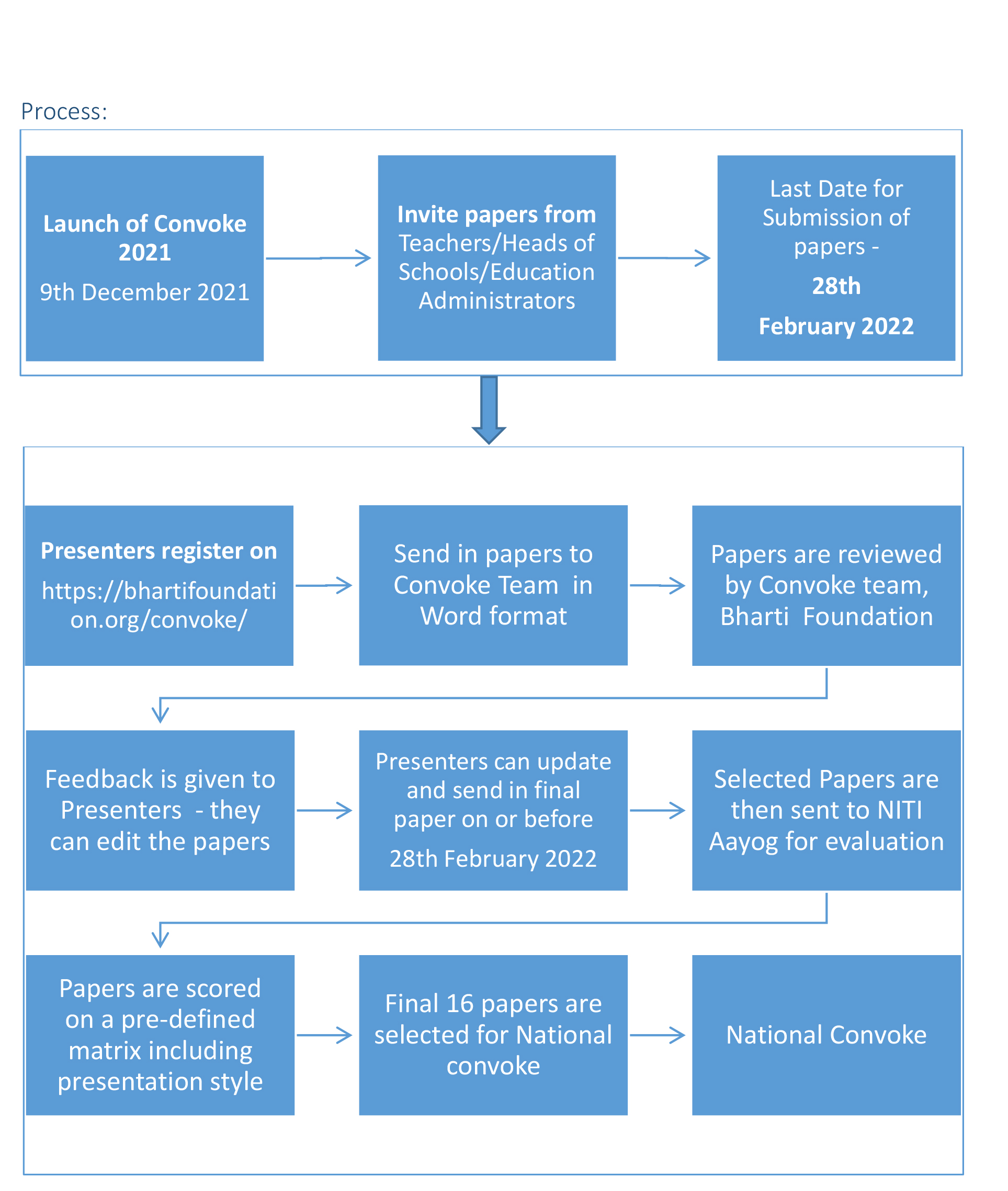 For more details, please write to convoke@bhartifoundation.org 
 
Expected Participants: Teachers and Principals from government schools, Kendriya Vidyalayas, Navodaya, government aided schools.


The paper should follow the structure and ideally include:
1) Title of the Research
2) Abstract/ Introduction
3) Research Questions
4) Methodology (including sampling technique and size)
5) Key Findings and Analysis
6) Conclusion and Recommendation
*Word limit for research paper: 5000 words
**Time Limit for presentation: 7 minutes
 
Note: The top three papers will be awarded 
CONVOKE Conference Reports