Children can and will change the world if given a chance!
Four students from Army Goodwill School in Kargil have built their school's boundary wall using plastic bottles. The school campus being located adjacent to the main road, young children were exposed to considerable danger.
The need of putting the protective fence around the school arose during one of the school meetings when the senior students raised concerns around the safety of the newly enrolled students as well as loss of sports material while playing cricket, football, volleyball, basketball or any other games/sports.
The resources needed for the construction of a protective fence was managed by the students themselves. While one group of students, collected the used mineral water bottles another group arranged for wooden poles from their respective locality or home. Over 130 students put forth more than 30 man-days to complete the protective fencing around the school.
The impact of this project was not limited to the school as nearby community or schools also decided to work upon the same idea to solve the problem which is quite evident in all the schools in this hilly region of Ladakh.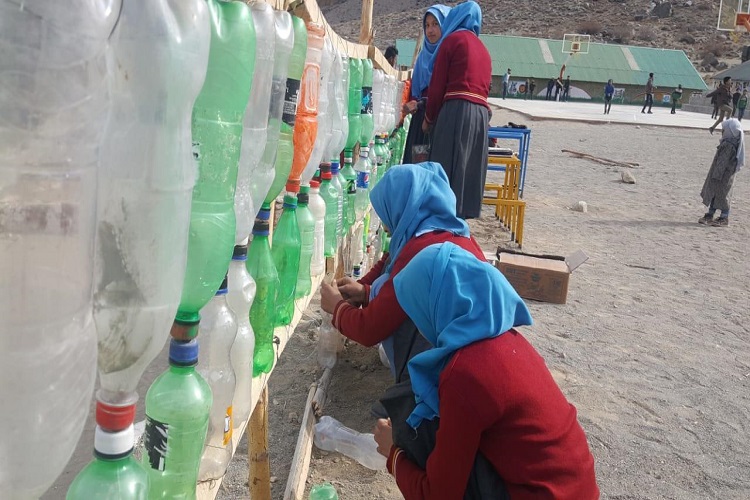 The students, who are from Army Goodwill School, Harka Bahadur, Kargil have won the "I Can" School Challenge 2018, held by Design for Change (DFC) movement for their innovative idea of using the discarded plastic bottles to build a protective fencing around the school premises. As a part of the reward, the students received a grant of Rs. 50,000 and got an opportunity to visit Rashtrapati Bhawan in February 2019.
Bharti Foundation works closely with Indian Army's Northern Command through the Satya Bharti Quality Support Program in Army Goodwill Schools across Jammu and Kashmir. This education program is the Foundation's initiative with government schools through which it engages the school leadership, teachers, students and communities to enhance the schooling experience and support them in their efforts to strive for excellence.