The tag of a 'Continuous Learner' is what makes a better teacher. Every teacher wants to expand his/her horizons of knowledge and hence, derives the satisfaction of professional development. Among the Government teachers, the school complex meetings have been the main source of knowledge sharing but the situation of pandemic has thrown an obvious challenge.
On the plus side of things, the ongoing lockdown has made us creative. English Language Teachers' Association of Rajanna Sircilla District and Bharti Foundation, together, have designed a series of interactive workshops for the betterment of English Language Teachers of the district. These workshops are organized on online video conferencing applications.
The webinars are the perfect way to interact, learn and grow in situations as such. However, there are still many hurdles that have to be overcame. There may occur disconnects between the hosts and the participants on digital platforms which are difficult to address being at home, especially when those involve are residing in remote areas. Larger groups, timing constraints and unacquaintedness of the resource personnel and the teachers also act as a challenge in virtual connects.
To address these problems, we have coined a new strategy of "Localized Online Teacher Training" where the existing resource personnel in the district would handle one topic each and that topic is selected based on the opinions from the Teacher Participants.
Below is the plan which got delivered as it is without any obstacles. 45 Teachers from various secondary schools participated in the training series and have shared the knowledge on the topics that every English Language Teacher needs regular update on.
| | | |
| --- | --- | --- |
| Date | Topic | Resource Person |
| 6-May-20 to 10-May-20 | Hands on training on online video conferencing platforms and opinion gatherings on topics to be dealt | Mr. Raju Lingala, Mr. Vidya Sagar, Mr.Praneeth Remidi |
| 11-May-20 | Phonetics – 1 | Mr.Kannam Ramesh |
| 12-May-20 | LSRW using ICT | Mr. Raju Lingala |
| 13-May-20 | Discourses – 1 | Mr. Srinivas Kandukuri |
| 14-May-20 | Phonetics – 2 | Mr. Vidhya Sagar |
| 15-May-20 | School Environment – 21st century Skills | Mr. Praneeth Remidi |
| 16-May-20 | ICT – special reference to Padlet | Mr. Vinayadhar Raju |
At the end of the training series, Mr. Kannam Ramesh, the President of ELTA – Rajanna Sircilla district expressed his delight on achieving success in this program, "We are happy for the kind of participation we receive from the ELTA – Rajanna Sircilla fraternity. Every initiative is effectively utilized and is taken forward by all the ELTA members of the district. This recent training series has shown the strength of the fraternity and the passion to learn continuously. I thank Bharti Foundation for its continuous support to our association."
The 10-day exercise to share knowledge using virtual platforms has taught every participant a new dimension in a teacher's professional development. It has not only helped the persons involved here but also has given a hope and shown a path to many others by exemplifying the approach of "Localized Online Teacher Training."
Bharti Foundation has partnered with 50 Government schools in the District of Rajanna Sircilla, Telangana. Apart from contributing to the partner schools, Bharti Foundation has been extending its support to various teacher forums of the District in terms of their capacity building and district-level student competitions.
Feedback from the Participants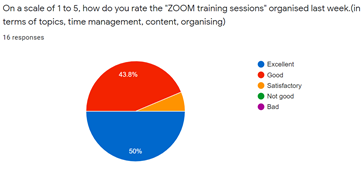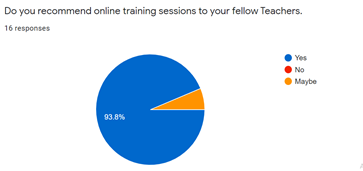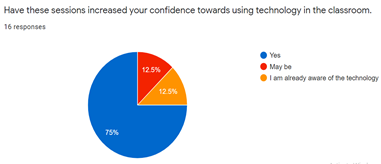 This article is contributed by Praneeth Reddy Remidi who is working with Bharti Foundation as an Academic Mentor in Telangana.