A sizeable proportion of the population of the children, especially in rural areas, of the country still remains Out-of-School. Satya Bharti Learning Centre Program was instituted in 2013 to augment the objective of universal primary education and SSA. The program had been running in close collaboration with Educate a Child, a global program of the Education Above All Foundation which has the objective of significantly reducing the number of Out-of-School Children (OOSC) worldwide at the primary school level.
The program team identified and mainstreamed Out-of-School Children in the rural areas of Rajasthan, Madhya Pradesh and Jharkhand at primary level, by offering tailored remedial/ bridge courses in collaboration with the government to bring the Out-of-School Children back to school and offer them equal opportunity through quality education.
As part of the program, children in remote villages, who had never been to school or drop-out children were identified and admitted in government schools. Compensatory education to these children was provided to bridge the learning gaps in order that they are absorbed in age-appropriate grades.
The Foundation worked with the respective state governments in these three states. We also partnered with 'Humana People to People' network in the Madhya Pradesh in FY 2015-16. The Learning Centres proved to be of immense value. These offered continual support to the government in enrolling and retaining OOSC, within the government schools. The Centres effectively engaged the community and parents for their support. Local youth were hired and trained extensively as Education Volunteers. The program addressed issues like lack of enrolment, low attendance, discontinuation and measures were taken to tackle these by creating a sustainable model that could draw and retain students.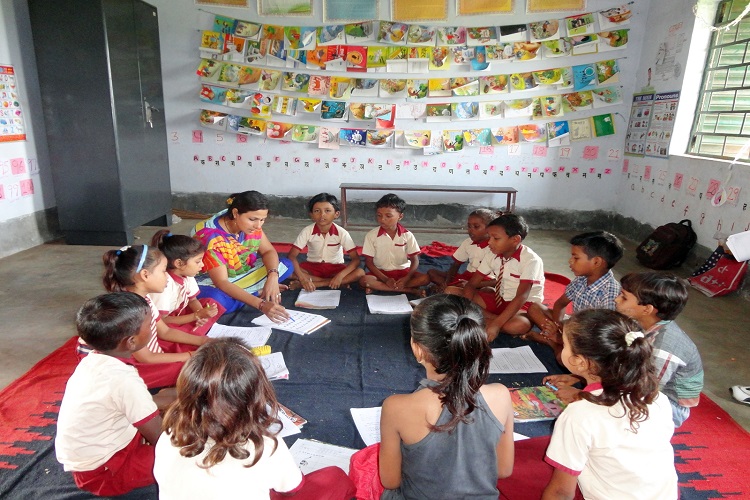 The program had significant impact during the years of its operations between 2013 and 2018. It directly impacted the lives of 37,800 children in rural Jharkhand, Rajasthan and Madhya Pradesh, out of which 33,816 children were mainstreamed. The success of this program can be credited to the joint and collaborative action of the Foundation, government, community partners and teachers at different levels.
OOSC continues to remain a global challenge with India being a majority contributor on the global map. The Learning Centre Program has now been integrated into the Satya Bharti Quality Support Program with a continued endeavor to reform rural education, now as part of the latter, for pan India outreach.
(FY 2018-19 onwards, the time-bound Satya Bharti Learning Centre Program has come to a closure. Scope for mainstreaming OOSC is now being integrated with Bharti Foundation's Satya Bharti Quality Support Program.)