We are already in the eighteenth year of the 21st Century. And, while there is high level of acceptability of the role technology can play in school education; the questions around what technology to use and when; or, how to overcome the issues of accessibility and under-representation especially in the rural parts of the country continue to take up our mind space.
Working with the 254 village-based Satya Bharti Schools of Bharti Foundation, along with over 2000 Government schools in the deep rural parts of our country has given me some amount of understanding about the challenges our rural schools, teachers and students face on ground. It has also made me closely experience the role education and technology can play in students' life, beyond academic milestones. Equity in education is paramount and it should help every child reach her or his potential and become a contributing citizen of the country. How does one ensure that every village school provides quality education to its students; or provides access to student-centric technology programs that enable learning as a game; or, helps navigate complex topics using videos or allows personalized learning at one's pace. Schools must become a hub of technology that starts to dissolve the digital divide especially for those millions of children who do not have to access to technology at home. The problem of accessibility, at times, becomes more complex with the aspects related to gender, available infrastructure and other social issues.
Last month, I was visiting a Government school in a village. It is one of the schools under our Quality Support Program with a progressive Principal who wants to improve the quality of her school. I was interacting with Class XIIth students and I asked them whether they all had Facebook accounts. Many of the boys raised their hands and none of the girls did. The response was similar to my question around access to mobile phones at home. Inequitable access to technology takes various forms linked to poverty, gender and social norms. Rural schools also have issues around electricity, internet connectivity and maintenance of computers provided to them. The students in that schools were amazingly bright and engaged. I met with a group of boys who wanted to start a business to sell local handicrafts over internet and a number of girls who wanted to be IPS officers. Access to relevant technology program at this school could have done wonders for these children. Computers and related hardware have started to reach most of the schools which is the first critical step to provide access. While the internet and electricity availability is improving; offline availability of content is a boon especially for rural schools.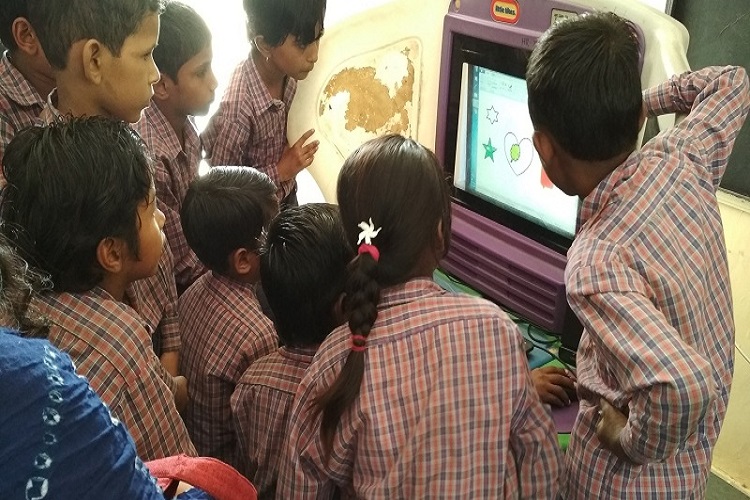 One of the key challenges in adopting technology in education in rural schools is teachers' readiness. In Satya Bharti Schools, we worked in phases to get our villages based teachers to embrace technology. We introduced technology by initiating computer-based Monthly School Report, soon after the program started. Each Head Teacher was provided with a laptop to fill in school's data whereas each class teacher was to fill in her class details. Analytics would pop up as soon as the data was entered giving them a quick overview of the school's performance, and that was a quick win for all. Our teachers not only started depending on the School MIS, but learnt how to prepare impressive presentations to showcase their achievements for the monthly review. Technology got embedded well and was further supported with teachers – trainings. We also provided our schools with a few computers with language and subject based modules linked to our curriculum framework. It was to be used as per teacher's need assessment. As and when electricity was available, the Head Teacher would decide along with teachers regarding which class and subject would go for computers. Once exposed to computers, students and teachers became comfortable with technology. Many of our teachers now look for additional resources on internet, in local language, to improve their teaching practices.
In the Satya Bharti Schools, our teachers are deeply engaged with students, who come from underprivileged backgrounds and most of them are first generation learners in their family. Teachers are well aware of the fact that most of the students are experiencing difficult life issues at home and schools must provide them a safe and happy place to be in. Our teachers provide the much needed individual attention to students so they do well under their care. Equity in classroom is achieved only if each child receives what he or she needs to develop to his or her full academic and social potential. That's what most teachers aim to do and technology can definitely support them in accelerating a child's learning journey, thereby empowering teachers to deliver core aspects of education effectively and spend quality time mentoring their students.
Personalization of learning journey as well as bringing in Virtual Reality experiences into classrooms are game-changing solutions in education. It will require bold steps at the policy level as well as creating technology accessibility centres at schools to make technology available to the last mile. Whether technology is used for ensuring personalized learning thus shifting the focus from time-bound advancement to skill/knowledge based advancement, or for assessments to loop into learning as well as improving teaching practices, it is an imperative that all schools be made technology ready for it to remove any form of digital divide. The scalability of such tech-programs will only be achieved through low cost and open source solutions as well as policy changes.
While exposure to technology, computer education, programming and even coding skills being introduced early in education are some of the key aspects to get our children future ready. But, equally important are the soft skills that our students need to learn to navigate through their life. Their ability to know right from wrong, to be able to engage in discussions on critical issues, to work in teams, to think critically, creatively and out of box are some of the important life skills. While technology will continue to make our life simpler but we will need our schools to continue to teach soft skills, ethics and human values to make this world a better place.
Jai Hind
Mamta Saikia
COO
Bharti Foundation
The article has been published in the book 'Digital India Way Forward – 2018 Edition.'